Deprecated
: ltrim(): Passing null to parameter #1 ($string) of type string is deprecated in
/home/themassinvasion/themassinvasion.bros.me/wp-includes/wp-db.php
on line
3030
Deprecated
: parse_str(): Passing null to parameter #1 ($string) of type string is deprecated in
/home/themassinvasion/themassinvasion.bros.me/wp-content/plugins/jetpack/class.jetpack.php
on line
4224
I grew up as the daughter of an award winning chef. As a child I served as my father's human guinea pig, experimenting in culinary hybrids that he would use at home to develop new recipes at the restaurants where he worked. In other words, I know good food.

I do find it fascinating though how men sometimes teeter between food and sex.  When guys are young, it's all about the sex, and yes, food is involved, but not at the same ratio.  As men become older, that sliding scale starts to turn toward food where the gratification once found in a moment of passion is now discovered hot and sticky, wafting in the scent of baked goods bliss, melt in your mouth sweetness with a slight saltiness that can make your toes curl coming straight out of a Cinnabon.
Don't lie, you've had a similar experience.
But does it constitute cheating?
Can loving something that makes you feel so wrong be right?
…and the answer is yes.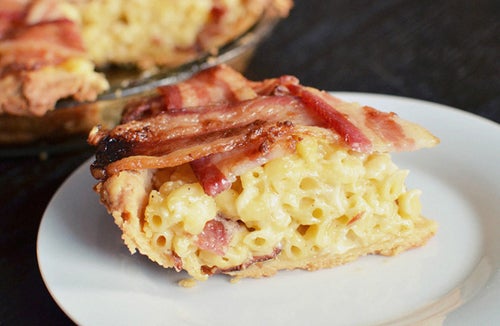 Remember the website "This is Why You're Fat"?  Perhaps one of the more popular footnotes in cyber-food porn.  The site became so notorious for it's off-the-wall images that the creator was given a book publishing deal.
How many nights did people lurk privately on their computers, either in disgust or in awe of some of the epic concoctions that graced the site's pages, most of which you would never consider experiencing in real life. Ironically it sounds amazingly close to how most folks consume real porn.
It's like going to a strip club.  You can look, maybe can touch (depending upon where), but the idea of taking it home or some other private domain is just asking for trouble.  You say it's just this one time, but is it really?  Can you say "no" after knowing once you've said "yes"?
And when is it too much?  Granted, food porn doesn't have the same old wives tales associated with it, like:
If you keep on doing it, you'll go blind.
or
You'll start growing hair on your palms.
or
If you keep doing it, you'll shoot your eye out!
Wait… I think that last one was from a movie…
In any case, if there were levels of food porn, I think Epic Meal Time would be in the hardcore end of that spectrum.  Specializing in guy food, these guys go from funny to WTF scary right quick.
But really, what is this appeal of taking pictures of your food? Yes, they can be pretty. Yes, they can be delicious, but isn't it like snapping indiscreet photos of yourself?
The point is to share what you're about to enjoy.  To tempt people and to inspire awe and much salivation.  You draw out the carnal cravings in the viewer.
Why does this sound like you're allowing someone to watch you?  As if you're giving them permission to watch a peep show?
No, not this peep show.
We understand the appeal.  The smell, the taste, the all encompassing seduction of food done right.  There is a sinful nature in the appeal that allows it to be safe for work, even if it's not safe for your waist.
And another thing, why do advertisers market towards men, when it's obvious when you go on pinterest, the majority of their users that post recipes are women!  Granted, I know guys would look ridiculous, but come on!
The whole thing reminds me about a discussion I heard from one of our brother sites "About Men Radio"
Head directly to 8:30 to catch the discussion.
So the question has to be asked:
Is food porn what we're evolving toward?
And…
Will a glorious picture like a thanksgiving spread become the next level of indecent exposure?
If so, then give us all a fiddle, stand us next to some awesome barbecue, and call us Nero, because we're just about to watch Rome burn… will someone pass the barbecue sauce?
(Note: we know it's not historically accurate, but work with us here!)